Khatharya Um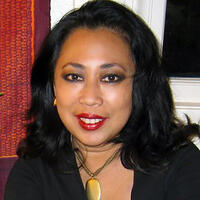 Khatharya Um is Associate Professor in the Department of Ethnic Studies. Professor Um is an internationally acclaimed scholar and advocate whose groundbreaking research illuminates the global impacts of war, genocide and refugee experiences, with a particular focus on war and genocide in Southeast Asia and its effects on Southeast Asian communities in the U.S.  She built Berkeley's Southeast Asian American Studies program and has contributed substantially to the growth of this field nationwide, expanding it beyond the important concerns of Vietnamese populations to be fully inclusive of Laos, Cambodia, and other countries of the region.  Her courses on Southeast Asian Americans made our campus the first to offer courses on the relational and comparative histories, cultures, and communities of these groups. She is also a founding member of the UC system's Critical Refugee Studies Collective, an academic and community engagement initiative on global refugee concerns that centers the voices, perspectives and leadership of refugees themselves.
Beyond the campus, Professor Um's work has helped shape state and national policy on underserved communities, particularly for K-12 schools, and she is active in conducting teacher and staff training on issues related to Southeast Asian American students, refugee experiences, cultural and linguistic diversity, and family engagement.  At the international level, in light of rising nationalist tensions in Asia, she led a global team of scholars, researchers, and teachers, under the auspices of UNESCO, in the development of a secondary school curriculum on Southeast Asian shared histories that has been integrated into the national curricula of nine Southeast Asian countries.
Professor Um is a beloved teacher, mentor and role model to Berkeley students, particularly those of Southeast Asian descent. Many note that her classrooms are among the few intellectual spaces on campus where they can grapple with their full experiences and identities. As a self-described refugee-scholar herself, and as the first woman of Cambodian descent to be awarded a Ph.D. in the United States, Professor Um inspires her students to not only succeed on campus but also go on to serve their communities after graduation. She has contributed greatly to Berkeley's intellectual mission and campus life through her leadership as Chair of Peace and Conflict Studies and as longtime Faculty Director of Berkeley's Study Abroad Program, where she effectively increased access and participation of students of color, first-generation students, and transfer students.