Dear Campus Community,
The beginning of a new academic year is always an exciting time, and this one is particularly special for me. Like our new first-year and transfer students, sophomores, and those who transferred to UC Berkeley last year, I too, am new to the campus. My tenure as the vice chancellor for equity & inclusion started just three weeks ago.  
Like many of you, I'm navigating the return to on-site working and learning while recognizing that some have been here throughout the entirety of the pandemic ensuring that our campus continues its vital operations. We're still negotiating a lot of unknowns about the COVID-19 virus and the Delta variant as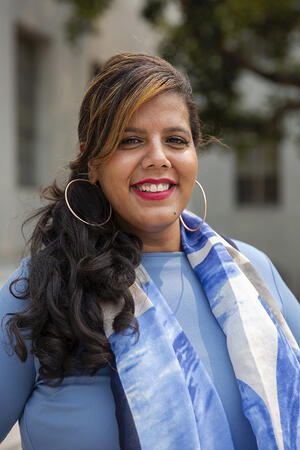 well as many national and global events that have impacted our communities. However, my joy in being part of the Berkeley community and the opportunities that lie ahead to find and build community outweigh my worries.
In my short time here, I've had the opportunity to start meeting students, staff, and faculty involved in the division's programs and learn about campus diversity, equity, inclusion, belonging, and justice (DEIBJ) efforts and initiatives. I'm impressed with what I see and eager to partner in the work to replace structural inequities with action that leads to transformative change.
I don't have all the answers, so I'm inviting you to partner with me. During my first year, I will be doing formal and informal listening sessions to learn more and hear how students, staff, and faculty experience the campus. In addition to quantitative data collected through the My Experience survey, the qualitative information I obtain from in-person conversations will help me create a vision for what DEIBJ is at Berkeley and how to implement that vision. 
I invite students, faculty, staff, parents, alumni, and other community members to join me in these structured sessions focused on Truth-telling, Trust, and Transformation. We will hold one gathering a month in September, October, and November. The locations will be announced shortly. I hope you will join me at one or all of the gatherings. 
September 29th, 3:30-5:30 pm - Truth Telling

October 27th, 3:30-5:30 pm - Trust

November 17th, 3:30-5:30 pm - Transformation


To get to know you better and ensure I am accessible to you, I will also be hosting weekly office hours this fall starting Thursday, September 16.  The informal one-on-one and small-group meetings provide a place for me to meet you where you are and hear about your experiences at UC Berkeley and what matters to you. All of the meetings will be held via Zoom. You'll find the dates and a link to the Google Form where you can sign up for a 15-minute block on the Division of Equity & Inclusion website
I look forward to meeting you at one of the listening sessions or during the weekly office hours. 
With you,
Dania MatosVice Chancellor for Equity & Inclusionshe/her/ella