Ari E. Martínez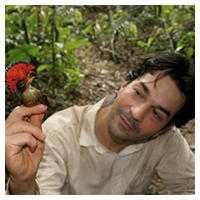 Ari Martínez is a 2017-18 Chancellor's Postdoctoral Fellow at the Museum of Vertebrate Zoology and Department of Integrative Biology. His research interests that span from animal behavior to community ecology, and primarily uses neo-tropical birds as a study system. Ari's doctoral research evaluated how communication across species influences the formation of mixed species groups. Currently, his research focuses on describing the details of information produced about food and predators among birds and whether other eavesdropping species can discern amongst different signals that contain different types of information.
Ari's long-term goals are to link information to individual decision making to species associations and, ultimately, how those species associations affect community-level processes.
Ari received his BA and MA in Biology from the University of California at Santa Barbara, and a PhD in Ecology from the University of Florida. At the University of Florida, he was awarded a National Science Foundation (NSF) Integrative Graduate Education Training Grant to undertake a multidisciplinary approach to understanding the conservation of tropical forests. He was also the recipient of an NSF Southeastern Alliance for Graduate Education Fellowship. More recently he has received funding from National Geographic.
Ari's work has been published in Ecology, the American Naturalist, Behavioral Ecology, Oecologia, the Wilson Journal of Ornithology, Ecohealth, and Bird Conservation International. He is a member of the Ecological Society of America, the Association for Tropical Biology and Conservation, and the American Ornithological Society.
To learn more about Ari Martinez' research program, teaching philosophy and outreach initiatives visit: http://arimartinez043.wix.com/birds
Carolyn Smith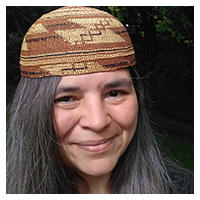 Carolyn Smith (Karuk Tribe) is a 2018-2019 Chancellor's Postdoctoral Fellow
in the Department of Ethnic Studies at the University of California, Berkeley. Her research engages with indigenous knowledge to consider how Native American craftworks are profoundly intertwined with people, landscapes, and watersheds. In exploring indigenous ontological understandings of craftworks and their roles within communities, she addresses how museum identification and classification affect which works are eligible for repatriation and how they are represented and stewarded in collection spaces.
Carolyn received a B.A. in Anthropology from Sonoma State University, and an M.A. and Ph.D. in Anthropology from the University of California, Berkeley. Her graduate education was supported by UC Berkeley Chancellor's Fellowship and her
doctoral research was funded by the Wenner-Gren Foundation. Carolyn's dissertation, Weaving pikyav (to-fix-it): Karuk Baskets in-Relation-with the Everyday World, spoke to the extraordinary interrelationship of baskets with nearly every aspect of Karuk daily and ceremonial life, including ontology, traditional ecological
knowledge, language, familial and community relationships, identity, and social memory. By foregrounding Karuk histories and cultural traditions, she offered a perspective that countered anthropological studies of basketry, which tend to focus on typology and use value. Her research also revealed that basket weaving provides healing of historical trauma through cultural practice.
Carolyn is a basketweaver and artist. She is a member of the Council for Museum Anthropology, Association of Indigenous Anthropologists, Association of Academic Museums and Galleries, and California Indian Basketweavers Association.