As a first-generation college student, graduate student instructor, and researcher, Eddie Rivero has learned a lot about the various obstacles students from non-dominant communities have to overcome as they navigate institutions of higher education. "There were a lot of things that I wish I could've known going into college as an undergraduate at UC Berkeley. Even going into my Ph.D. program in education, I didn't know about the intricacies and rigors of doing research." Luckily, Eddie has had a lot of support from spaces like the Chicanx Latinx Student Development (CLSD) program, his faculty advisor, as well as his colleagues and family throughout his educational journey.
One of the ways this 5th year Ph.D. student in the Graduate School of Education has been able to overcome some of these obstacles is by following the example of his advisor, Dr. Kris Gutiérrez. "The way she organizes and connects her students across generations and institutions has allowed me to grow as a scholar in multiple ways and serves as a great model for the type of faculty mentor I want to become."  This type of inter-generational mentorship allowed Eddie to engage with professors at other universities in formal and informal contexts and helped him envision himself as a future faculty member. In this regard, Eddie points out that there needs to be designed supports for students from non-dominant communities as they move through institutions of higher education.
Eddie is dedicated to working with students from non-dominant communities in many ways. As part of his dissertation work, he's spending time at an after-school tinkering and making space in San Francisco to understand how Black and Latinx students appropriate, challenge, and/or subvert ideologies through their design activity. Additionally, he's mentoring undergraduate students through the From Day One Program at the Chicanx Latinx Student Development program and helping undergraduates learn about the research process through the McNair Scholars Program and the Undergraduate Research Apprentice (URAP) Program.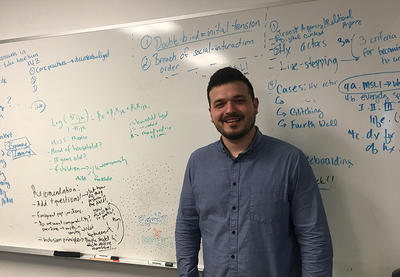 In between all of that, like other graduate students, he looks for opportunities to publish his research.  "All of my publications have been with my colleagues or with my advisor, so I haven't had to do this alone. When you get to build with your colleagues, you draw on their strengths, and they draw on yours. It makes it so much easier and fun to write an article."
During his undergraduate years at Berkeley, Eddie also became an activist. Through his activism, he learned about historical forms of oppression that structure how resources are allocated and shape the opportunities available to people from non-dominant communities. These critical insights inspired him to dedicate his research and life's work to challenging educational structures and racial ideologies.
In the next few years, Eddie will start looking for a faculty job. His first choice is to be a professor at a research one university like Berkeley. He's also starting to think about other avenues. As he explores his options, Eddie is sharing the journey with his mentees. "When I work with undergraduate students, I want them to explore the various options that they have after they graduate from Cal. Too often, I feel like programs orient undergraduate students toward graduate school without first exploring the different pathways they could take to become the people they want to be."