Takiyah Jackson knows what it takes to be a successful student and college athlete. She played basketball at UCLA from 1996-2000.
"I had morning classes and then I would go to the training room to get treatment.  After that, I'd go to practice at 12:00 pm -3:00 pm. Then from 3:00 to 4:00, I'd go to weights, and then I would go to the training room to get more treatment."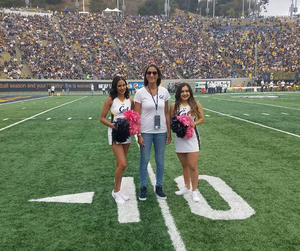 After that, it was time for Takiyah to focus on her studies. From five to seven in the evening there was study hall, if she needed more help in a subject, tutoring from 7:00-8:00. When she finally got home it was time to do homework. All that was on regular days. If it was a game day, Takiyah often didn't get home before 11 pm.
When she looks back, it's not just the practices, training, injuries, and games that she remembers. Takiyah says there are a lot of opportunities students have every day that student-athletes miss out on due to practicing and competing in their sports. "The challenge is having a holistic experience when your time is so limited. You can do it but it takes some strategy to make sure that you're able to get involved in everything that you want."
So, over the past two years, in addition to her work as the Director of the African American Student Development (AASD) program, Takiyah has been intentional about supporting Black student-athletes to navigate their schedules so they can make it to more workshops, meetings, and social events available across campus. "It can be done, but sometimes you just need some support."
People on campus and in Athletics are noticing the impact of Takiyah's work. Last month, when Cal played the Oregon State Beavers, she was named the honorary Faculty Club Member of the Game. "I'm honored that in my short amount of time here, I've been able to impact and support Black student-athletes and be a partner to Cal Athletics, especially around equity and inclusion."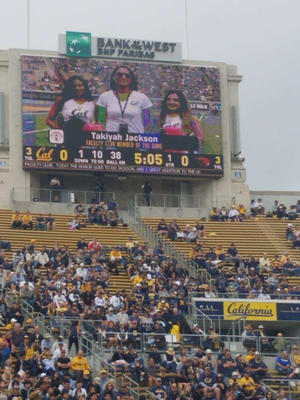 She and her team partner with Athletics in a number of ways to support students.  She serves on a few committees within Athletics. Her staff provides workshops to equip teams with a better understanding of diversity and inclusion, and how as a team, they can work together to create a sense of belonging for everyone. Coaches also bring prospective student-athletes to the Fannie Lou Hamer Black Resource Center to meet the students and staff and learn about the academic, social, and professional development support that will be available to them if they decide to come to Cal.
Takiyah says they want to create community among student-athletes and non-student-athletes, which is sometimes hard because of their different schedules and obligations. AASD has started offering programs more than once so that people with non-traditional student schedules can participate. Recently, the Know Your Rights training was held from 5:30 – 7:30 pm and then the next day during the day time. They're also creating events that take their students to the courts and fields. To relieve stress during R&R Week one semester, the women's basketball team led them through a workout and last February, AASD partnered with Athletics to celebrate Martin Luther King Day and highlight the Black student experience on campus.
"It's just been really exciting to work with Athletics these past few years".  Although my motivation is not to be recognized but to simply make an impact, I do appreciate and feel honored when my work is recognized."