Building Community & Belonging for Berkeley's Pacific Islanders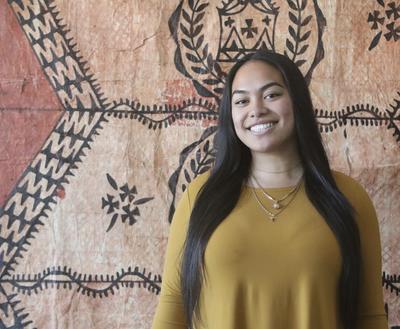 When Angel Halafihi was a senior in high school, she applied to UCLA, UC San Diego, UC Berkeley, and a few other universities. Right after getting her admittance notifications, UCLA's Pacific Islander Student Association (PISA) reached out, inviting her, her mother, and her brothers to come down for Admit Weekend. She was accepted to UC Berkeley but didn't hear anything from them about their senior weekend. 
The family toured the campus and spent most of the weekend with PISA members. The organization wanted them to know that Angel would have a family looking out for her, and she would be safe with them. Since she was only 18 years old and the only daughter in the family, that was something her mother was even more concerned about than the academics. Angel was expected to stay with her family until she was 21 years old, the "coming of age in Tongan culture." 
"My mom was actually really hesitant in even letting me go to the admit weekend, let alone even considering going to UCLA for undergrad for an entire three or four years. I grew up in a really tight-knit family, and we had always lived in the Bay. Moving to LA was a big deal for my family and me for a lot of reasons. It wasn't until after my mom had met PISA members and gotten a chance to spend that weekend with us, it wasn't until then that she started to consider letting me go. My safety, and having people around me who we could trust were some of   the biggest elements of deciding where I would eventually go for college."
Pacific Islander Initiative
For the past year and a half, Angel has managed the Pacific Islander Initiative at UC Berkeley. Seated under the Asian Pacific American Student Development (APASD) office, the initiative provides programming, services, and advocates for students of Pacific Islander/Pasifika/Oceanian ancestry. "The PI Initiative is just one entity that has been established after 20+ years of Pacific Islander student advocacy, and so, it's been a long-time coming." 
The Pacific Islander community is very underrepresented at Cal. As of Spring Semester 2020, there were a total of 272 undergraduate and graduate students, making up 0.66 percent of the student body. There are no PI faculty members. The experience of the community is one of marginalization and being invisible. They are often included with others rather than being recognized as a group with their own unique culture and needs. 
The goals of the initiative include increasing the recruitment and retention of PI students, addressing disparities, and promoting multi-cultural awareness through student interaction and community involvement.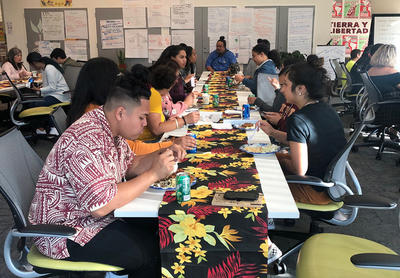 During this inaugural year of programming, Angel focused on building community and a sense of belonging.  She established a year-long seminar that focuses on Pacific Islander history and contemporary issues. APASD partnered with the community non-profit Empowering Pacific Islander Communities (EPIC) to host a four-day summer intensive program called PILOT - Pacific Islander Leaders of Tomorrow, where students learned about advocacy and identity. For the first time, the West Coast CHamoru Conference was held on campus hosted by the Bay Area's Independent Guåhan Chapter. For the third year, indigenous students from Aotearoa (New Zealand) came to visit the campus and participated in workshops. 
Last fall, the PI community-engaged campus leadership by hosting a listening session with the Chancellor and other top-level administrators. The idea came out of conversations and actions led by the Mauna Kea Protectors, a student group working on getting the University of California to divest from plans to build a 30-meter telescope on the sacred Native Hawaiian mountain called Mauna Kea. Since that session, PI communities have been working more closely with campus administrators to address issues pertinent to them. 
"None of this would be possible without the work of students that have come before my time here at UC Berkeley. And, it certainly wouldn't be possible without the current students and all of our communities visioning and wanting to see better for our future generations ."
Planning for the Future
As Angel plans for the summer and the new academic year, she talks about inclusion through the lens of Pacific Islander cultures.  "Our indigenous ways of knowing center community in making sure that we nurture each other in ways that sustain us all, and that sustain the relationships we have with the people in our lives, with the land, with our waters. We honor the space between ourselves and everything and everyone around us by moving with care and out of love."
She also looks back at her time at UCLA and the community support that made it possible for her to go there. "When I first got to UCLA, I was just really excited to be away from home. There were certainly some challenges, but I felt secure  because I was around other students, staff, faculty, and people  who I could relate to in terms of some of the identities I hold, like  being a low-income, a first-generation student, and especially being PI, being a person of color, etc."
Angel wants that same support and sense of security to be available at Cal. Still, she knows the Pacific Islander community can't provide everything themselves. "The campus needs to be able, as the university and institution, to support Pacific Islander students in different ways. I don't think UC Berkeley is quite there yet. I do see it transforming, and I foresee more and more Pacific Islanders applying and then also being admitted. It's a work in progress."