Advocating for the Sacred in the Digital Age
In this digital age when some people are asking whether libraries are needed any more, Melissa Stoner can't imagine life without them. "My aunt worked in the library at the elementary school that I went to. I went to the library because she was there and because it was quiet. I felt like I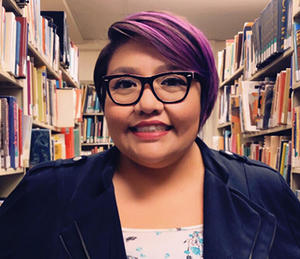 could find my own space there." The library is also where she got a glimpse of her future. "I thought, you can work here! This is crazy! It just blew my mind. You could hang out with these books the whole day?"
Melissa grew up in Shiprock, New Mexico on the Navajo Reservation. Her first job was at a public library in Farmington, about 30 miles away. She started as a computer lab assistant and then moved up to reference assistant working with the librarians. "A lot of people think a library's just a building where you go to check out books. But I think when you look closer, the library actually mirrors the communities that they serve and they understand the needs of that community."
Melissa grew up in Shiprock, New Mexico on the Navajo Reservation. Her first job was at a public library in Farmington, about 30 miles away. She started as a computer lab assistant and then moved up to reference assistant working with the librarians. "A lot of people think a library's just a building where you go to check out books. But I think when you look closer, the library actually mirrors the communities that they serve and they understand the needs of that community."
Two years ago, she came to UC Berkeley as the Native American Studies Librarian at the Ethnic Studies Library. It's been a big transition. "I'm a rez kid so living as an urban Native and meeting urban Natives that have been living in Oakland and the Bay for a huge majority of their life is a cultural awakening in a way. It's given me a different perspective on how Natives are living now. It also makes me really thankful that I grew up where I did, even though it was a reservation, and how strongly I was attached to my culture."
Melissa is interested in figuring out how the digital age can make the library's resources more accessible. Two projects she worked on before coming to Cal had affirmed her views on the importance of libraries using emerging technology. The first was at Nevada State College in Henderson where she managed a project funded by the Institute of Museum and Library Services (IMLS) to digitize oral histories.
"I worked with a history professor and his students to obtain oral histories of residents that had worked for the magnesium factory. Henderson, Nevada was a war-born town and they had a factory that manufactured the magnesium used in bombs in WWII. Their working conditions were so hazardous and some residents would remember there were a couple of times when somebody would be walking, their pants would be rubbing against each other and catch on fire because magnesium is so flammable."
Melissa is getting ready to launch the Ethnic Studies Library's pilot digitizing project focused on UC Berkeley's third world Liberation Front (twLF). Formed in 1969, this social movement helped establish Ethnic Studies as an interdisciplinary field of study. "We will be scanning selected items from the collection from the strike because the 50th anniversary is coming up. By starting this digital lab our goal is to make resources more accessible to the communities we serve."
While increasing accessibility is a priority, before digitizing anything, Melissa says it's important to consider each piece individually. That's especially important to her as a member of the campus' Native American Graves Protection and Repatriation Act (NAGPRA) Advisory Committee that oversees efforts to return Native American remains and cultural artifacts to the tribes of origin.
UC Berkeley has one of the largest collections of Native American artifacts in the country and most are housed in the Phoebe A. Hearst Museum of Anthropology. Librarians at the university have been working to digitize materials including photographs, manuscripts, recordings of songs, and other items, to make them available online. As her knowledge has grown about culturally sensitive materials, Melissa has become a stronger advocate for keeping items that may be considered culturally relevant yet sacred offline and/or only accessible based on the community's needs and values.
"I think there needs to be more care and consideration when digitizing these items, especially if they are materials that relate to Native American and/or indigenous peoples. It's finding the tribe that it was taken from. It's taking the time to realize the items could be considered sacred to a community. Major consultation needs to happen. It's not going to be easy but in the whole scheme of genocide and settler colonialism, I think that's just a small piece of what could be done."