The Division of Equity & Inclusion provides leadership, accountability and inspiration to the UC Berkeley campus in integrating equity, inclusion and diversity into all aspects of university life.
We strive to resolve systemic inequities for all members of the campus community through engaged research, teaching, and public service, and by expanding pathways for access and success and promoting a healthy and engaging campus climate. With this work, we seek to fulfill our highest public purpose and to create a welcoming environment where students, faculty and staff can succeed and thrive.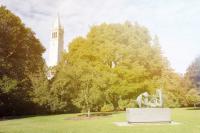 Explore the different committees and advisory boards creating innovations in Equity, Inclusion, and Diversity at Bereley.