Undocumented Graduate Student Advising 
Liliana Iglesias, an Academic Counselor/Coordinator with the Undocumented Student Program hosts office hours, on Fridays from 3-5pm, in the Office for Graduate Diversity to meet with graduate students on a drop-in basis throughout the academic year. Topics to discuss include financial aid, anything regarding USP resources broadly, or even to simply get more acquainted with or provide feedback about what USP can do for you. For more information or to schedule an appointment at another time, please contact liglesias@berkeley.edu. 
Graduate Diversity Admissions Workshop at UC Berkeley
Thinking About Graduate School at UC Berkeley?
You'll want to attend this workshop!
When: 

Monday, October 15, 2018

 from 

5-7 PM
Who: Open to all, but especially useful to those who come from historically underrepresented communities
 What: Topics to be covered include tips and strategies on becoming a competitive applicant for graduate admissions; ways to fund your graduate education and words of wisdom from current diverse graduate students.
Where: UC Berkeley Campus
Registration is now closed.
Graduate Diversity Admissions Webinars at UC Berkeley
Can't come in person? Consider joining us virtually!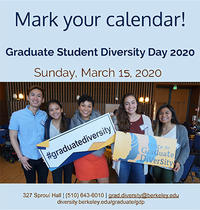 Graduate Student Diversity Day is an introduction to the UC Berkeley campus for underrepresented graduate students who have been admitted to the University. Presentations, discussion, and department visits will address the experiences of students from groups that have historically been excluded from, or who have experienced barriers to participation in higher education.
Diversity Day 2020 will be held on Sunday, March 15, 2020
STEM-FYI (First Year Initiative)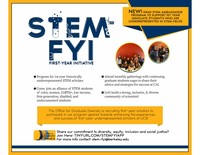 "The Office for Graduate Diversity invites first-year underrepresented STEM grad students to join continuing STEM graduate student ambassadors in building a strong and connected community of students of color and women across all STEM fields. We are dedicated to enhancing the experiences and success of first-year underrepresented scholars at Berkeley. Share this dedication? Sign up to receive communications at tinyurl.com/STEMFYIAPP