Graduate Diversity Admissions Workshop at UC Berkeley
Thinking About Graduate School at UC Berkeley?
You'll want to attend this workshop!
When: 

Monday, October 9

 from 

5:30-7:30pm
Who: Open to all, but especially useful to those who come from historically underrepresented communities
 What: Topics to be covered include tips and strategies on becoming a competitive applicant for ​graduate admissions​​; ways to fund your graduate education and words of wisdom from current diverse​ graduate students.
Where: UC Berkeley Campus
Please register ASAP, but no later than  October 6 to reserve  your seat. Seating is limited​! 

Graduate Diversity Admissions Webinars at UC Berkeley
Can't come in person? Consider joining us virtually!

Check back for upcoming dates.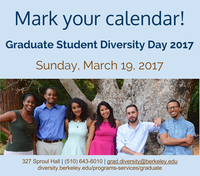 Graduate Student Diversity Day is an introduction to the UC Berkeley campus for underrepresented graduate students who have been admitted to the University. Presentations, discussion, and department visits will address the experiences of students from groups that have historically been excluded from, or who have experienced barriers to participation in higher education.